a bit about driving in mongolia
like most of the driving i've found around the world, the attitude to safety and the quality of road surfaces are quite a bit lower than what we got in britland. here in mongolia, when there actually
is
tarmac it is a cracked and potholed bleached-grey area, tracing a vague line to the next destination. there is no real edge; just a point where the road starts fading to a point where there is no tarmac. without warning the rugged surface may be interrupted by any or all of the following: cracks, potholes, dirt-track, on-coming vehicles, wooden bridges with planked surfaces, no road, and cows.
much of your journey you might spend with your eyes closed, praying that the driver knows the road as well as his driving implies.


let me attempt to take you into the mongolian countryside. first of all - it's beautiful, as though someone has laid a green-brown blanket of crushed velvet over rolling hills. the horizon is soft with pine trees as it undulates to and from you while you travel through the middle. the scenery subtly changes every few minutes as you rise and fall over the hills and into the valleys. driving at speed would be like sitting on a boat - if it weren't for the fact that the roads are completely awful.


we're staying for a couple of days in the terelj region, a little to the east of ulaan baatar. it's far enough from the small city to lose any impression that cities even exist outside of distant memory. the rolling hills on the city borders have been replaced by much more impressive mountains, still covered by the crushed velvet but with tall rounded rocks sticking through holes. we climbed one this morning to find some incredible views across the plains. under a clear blue sky and streaming sunshine we looked out over settlements dotted about, herds of animals edging their way across the landscape. below us our ger (mongolian tent). we are staying with a young family who live here, a couple and their baby living a pretty traditional life. they have a large ger that they live in and a smaller one for tourists. for a couple of dollars they feed us and give us beds for the night. the man of the house (i don't know his name, they speak no english and our phrase books cannot do anything for our unrestrained english accents. we'll call him jack) keeps horses and drinks coca-cola.

our traveling companions on this little jaunt are a couple, clare and jim. they're phd physicists and have been traveling for about 18 months. old hands.


jack took us out on his horses. none of us have been on a horse before, but this concept doesn't seem to occur to jack. he's obviously been on a horse since birth in a land where everybody rides a horse from birth. even his baby turns out to be better than us. mongolians invented horse-riding. they were the first people in history to ever sit on them to travel. so for us not to know how to do it must've been a bit odd.

the horses here are physically smaller than those you see doing the grand national and such. 'stocky geldings' the book says. they're strong though. in the times of mongol warlords and marauding warriors they launched into battle wiping out everything before them. today we've spent 2 hours on horseback over pretty tough terrain, all the time jack shouting "tschu!" and getting the horses to go faster, go faster. i worried that i'd sneeze and set mine belting at hyperspeed across the country.

my bum and thighs and knees are killing me, but what a brilliant way of seeing this part of the world. that is when you're not concentrating on desperately holding on for dear life. i named my horse 'alan.' alan was quite an angry horse with rough beige hair and a blind white eye. he kicked jack in the head while he tried to tighten my saddle. the guy proned to the ground clutching his forehead while the rest of us stood gaping with concern, but with no referential knowledge of what to do, if anything. alan later tried to kick me in the head when i tried to mount him. missed though, luckily. when alan wasn't kicking or moaning, he was farting. i currently stink of horse-fart and i'm 16 hours from my next shower. excellent.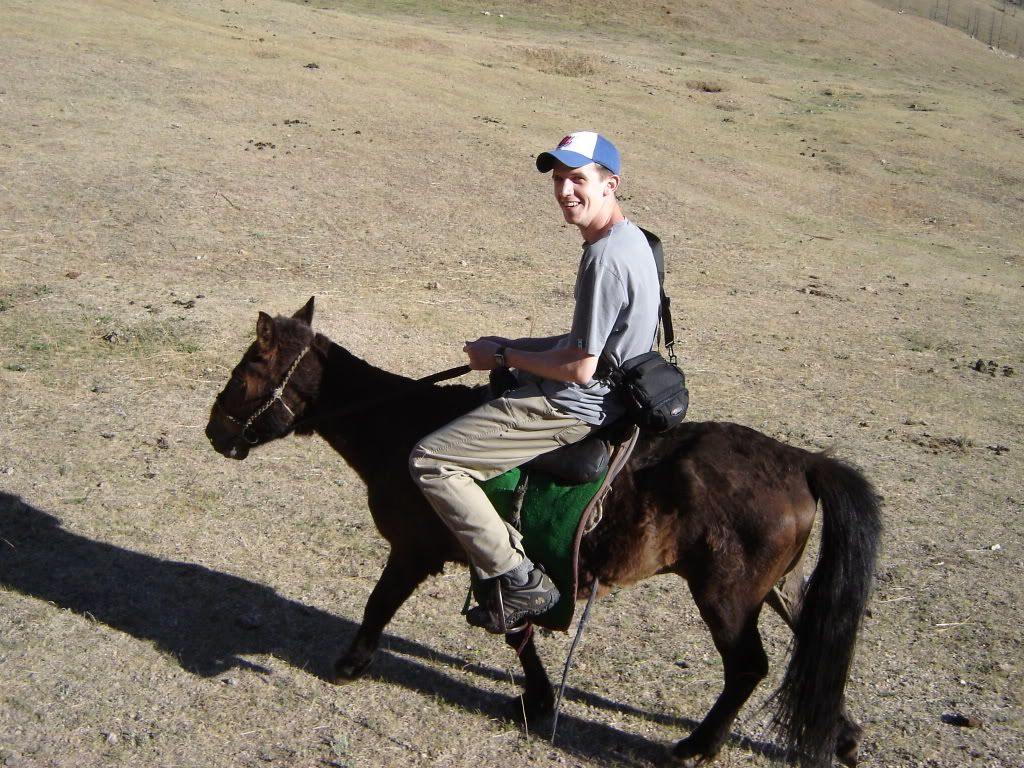 jack controls the horses with song. it's pretty cool, but it's worrying when he sings because at any moment the horses could hear a certain phrase and gallop forward with us on top, our only thoughts to making sure we stay on. no care for our style or finesse, but just for finishing with our skulls intact. fantastic, but it was one of the most painful experiences of my life, ball-wise.

when we are brought food the family dogs try to sneak unnoticed into the ger. one gives up and lays at the door with it's head lolled over the threshold, watching us intently.