i've worked it out. i knew it couldn't have been all it appeared to be. nothing and noone could exist with that little depth. ladies and gentlemen, despite all our belief systems, one of this nation's greatest treasures is:
Jordan.
i know, i was shocked as you are now. i literally just spewed over my fresh filled pasta when i realised it.
katie price/mrs. peter andre/media-whore/dumb-ass... call her what you will, but she is an artistic genius. she joins the ranks of Leigh Bowery and Gilbert & George as members of society who have dedicated their entire life to their art and in doing so, enriched life's great quilt-cover.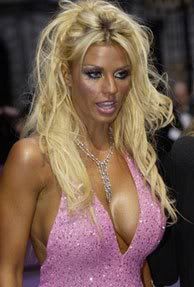 in a sacrifice of her own human looks she has turned her body into a social commentary on the falseness of our current society. a walking representation of the ugliness of materialism, the mediocrity of the nation and the ignorance of worldwide injustice.
she has even entered into a life-long contract (a marriage no less!) with a person who represents everything that is stupid in the modern world. not content with that, she is abandoned mother to a footballer's son, a man who (like other footballers) is vastly overpaid and living an undeservedly decadent life for his contribution to society. not only that (!) one of her sons is an ethnic minority and she made damn sure he'd also turn out to be disabled by drinking and smoking during pregnancy. what an amazing woman.
i'm sorry jordan, if you wanted to wait until your old age (29?) before you revealed this secret, but i think you deserve to be congratulated right away on your achievements.
i think the true beauty of what she has achieved is in the art of misdirection. allowing her stretched~airbrushed~flesh to grace the covers and broadcasts of what we could entitle "bad-media" means that those people with more resources than their genitalia can easily find more quality information and do something about the problems of this world. an easy rule of thumb: picture of jordan = nothing of value here.
thank you katie.
i'm still trying to work out the symbolism of a hot-air balloon race, but i'll get there.
well done jordan, good luck to all who sail in you.